PCS offers two integrated web-based timekeeping packages that provide solutions to businesses across all industries – PCSTime and PCSTimeForce.  Our best-in-breed software philosophy allows us to match the appropriate tier of industry-leading software to your organization.
PCSTime is a powerful yet affordable timekeeping system that gives you the choices you are looking for on a budget you can live with.  It's the most intuitive, user-centric system on the market and can be customized for your needs.
PCSTimeForce is our most dynamic timekeeping system.  Complete integration to our Payentry payroll product offers both employees and supervisors/administrators a single-point login and full data synchronization.
We are proud to announce several new time clock options for our PCSTime product.  All of these time clocks come with a lifetime warranty, connect via Ethernet or wireless and are real-time.  PCS is also offering a credit for your existing clocks if you would like to upgrade your clocks.
 For more information please contact our Timekeeping Product Manger, Chris Flynn:
763-746-1923 | cflynn@pcspayroll.com
Proximity Clock
Proximity clock technology is replacing older magnetic strip technology as it is more reliable (no moving parts) and quicker (employees simply tap in/out).  This clock is a great value and is our best seller.  Proximity cards or key fobs (pictured) can be used in conjunction with this clock.
Biometric Finger Print Clock
The American Payroll Association estimates that "buddy punching" accounts for up to 5% of gross payroll costs each year.  Biometric clocks will save on labor costs by eliminating buddy punching.  Our brand new biometric finger print clock offers a color screen display to assist employees in capturing biometric punches when clocking in and out. The on-screen display enables employees to view their fingerprint position and pressure, and adjust as needed. The unit also offers a highly durable, non-gel fingerprint sensor for improved performance. This is an ideal fit for employers desiring a user friendly biometric employee verification clock.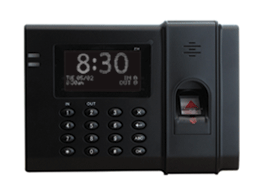 Professional Proximity Clock
Our Professional Proximity Clock integrates many features into a small unit.  It is intended for professional wall mounting – wiring to be buried in wall. It features a built-in proximity badge reader that reads standard 125 KHz Mango cards and can also be used with 3rd party readers via an industry standard Wiegand connection to work with existing security and door access systems.  It also features a built-in bell-ringer relay that enables the clock to work with bell ringer systems.  This clock is a great option if you have a door access or security system and would like your employees to use the same card/fob to clock in/out.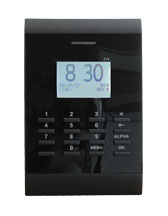 VoiceClock
VoiceClock is a telephone-enabled collection device that provides timekeeping punch collection through the convenience of a phone line.  Whether your employees work remotely, are located temporarily off-site, or simply do not have access to a traditional time clock, VoiceClock enables employees to punch in and out remotely over the phone.  We have had tremendous success with this product in environments that feature multiple locations and/or many offsite employees.  Additionally, this product can be customized to meet your unique needs.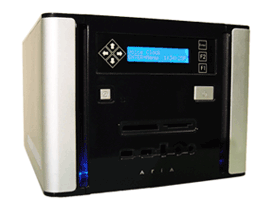 For more information please contact our Timekeeping Product Manger, Chris Flynn:
763-746-1923 | cflynn@pcspayroll.com